CAST Centro guides and Tour leaders
As a trade union (UIL TuCS) and Tourist Courier association (A.N.CO.TUR.) first, CAST Reservation Centre was born in 1989 on the initiative of a group of licensed professionals in order to fill a market gap. Our purposes are the following:
a) Meeting Travel Agencies and Tour Operators requirements (as well as private people) in tourism, meetings, incentives and congresses.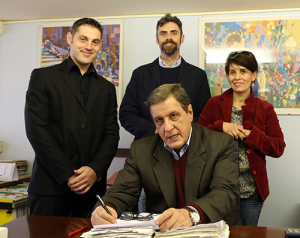 CAST, under Mr Gianluca Cioccoloni's leadership and guidance, can meet client's requirements concerning tourist professionals in the most widely spoken languages on Rome and the whole Italy. Service is even sure on high season.
Choose CAST! Choose expertise and time saving thanks to fast and reliable procedures.
CAST provides:
LICENSED TOURIST GUIDES
LICENSED TOUR ESCORTS
AIRPORT, STATION, PIER LICENSED ASSISTANTS (permission to enter the customs area owned)
CONGRESS HOSTESSES
INTERPRETERS AND TRANSLATORS
Office is open all the year long (holidays excluded) from Monday to Friday in the morning from 9AM to 01:30PM – in the afternoon from 3PM to 6PM.
Saturday open in the morining from 10.00 am to 01.00 pm.
Lo staff

Gianluca Cioccoloni
General Manager

Patrizio Vergari
Operation Manager

Katiuscia Colli
Account Dept.

Michele Pisaturo
Business Consultant
Information
Enter your details